Alternative Finance is a fast growing area of business and it refers to all financial channels and instruments that have emerged outside of the traditional finance system – banks and financial established organisations such as regulated banks and capital – managed by independent fintech organisations.
Alternative finance is a solid growth industry that covers a variety of new financing disrupting models that have emerged outside of the traditional financial system, that connect fundraisers directly with funders often via fintech organisations using mostly online platforms or websites.
Alone the UK market is growing rapidly, and has more than doubled in size year on year from £267 million in 2012 to £666 million in 2013 to £1.74 billion in 2014 and close to £3.2bln in 2016. In the process, alternative finance and trade finance models have given individuals and businesses more control over their money, their financial capacities as well as new outlets to invest or donate it.
According to Stian Westlake, Executive Director of Policy and Research, from UK organisation Nesta
There is a growing movement afoot to revolutionise banking, investing and giving by using technology to simplify the links between those who want to invest money and those who need it. Crowdfunding and peer-to-peer finance are at the vanguard of this movement. Nesta has been an active supporter of a range of crowdfunding platforms and an advocate for and expert on the development of the alternative finance market. We are especially proud to be publishing this research, which constitutes the most detailed and extensive survey of the alternative finance sector yet undertaken anywhere in the world. We believe the results will make essential reading for anyone interested in the future of finance, both in the UK and in the wider world.
To add to this Dr Mia Gray, Senior University Lecturer, University of Cambridge stated that
The UK alternative finance market is burgeoning and we need to develop a more nuanced understanding of its structural drivers, intrinsic characteristics, dynamics and diversity, challenges and opportunities. This report is an important first step to promote empirical research in this increasingly significant area of our economy.
A recent research conducted by Red Bricks on behalf of Personetics, displays that a sizeable minority (30%) are already using financial product by an AltFI and around 20% are using AltFI already for their current account.
Source: Pushing Boundaries, Nesta, Judge Business School, University of Cambridge
According to Nesta and Cambridge Centre for Alternative Finance, University of Cambridge, in 2015 in UK alternative finance sector grew 84%, facilitating 3.2GBP billion in investments, loans and donations. Additional key findings from the report:
Alternative Investment market share is boosted by small business lending and starup investment. Equity crowdfunding is 15.6% of total UK seed and venture-stage equity investment
Equity-based and donation-based crowdfunding were the fastest growing models in 2015. Equity based grew by 295% since 2014 to GBP332million and donation-based – by 500% since 2014 to GBP12million.
45% of institutional involvement was reported at some level of all platform.
As shown in the below chart, customers recognise a faster service, easy way to interact, a convenient and secure service as a competitive advantage over the services provided by the traditional financial institutions. However, 'value for money' as well as 'simple management of my money' are still considered as better services provided by the traditional financial institutions. (Personetics, Red Bricks, Jan. 2016)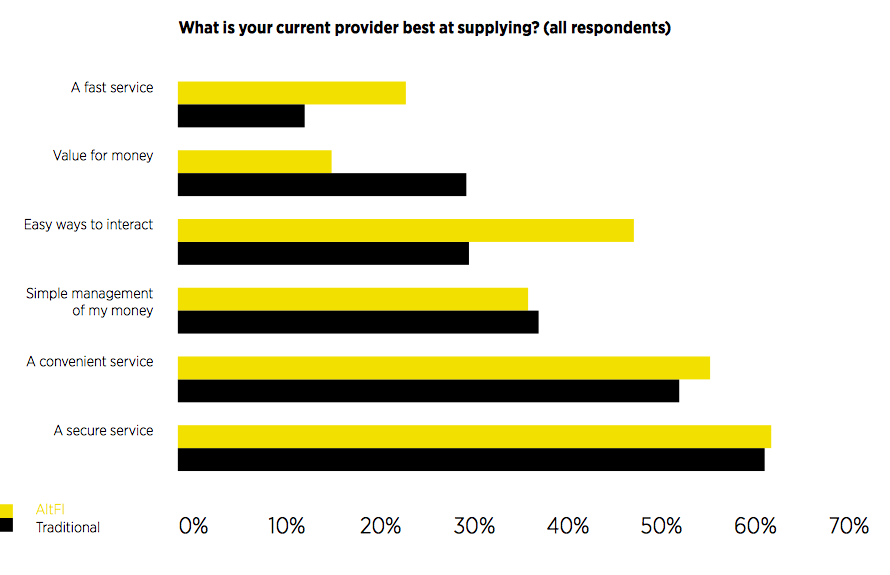 Source: Banking Disintermediation: The Personalisation Imperative
The popularity of Alternative Financial institutions amongst customers was boosted by 'personalisation', i.e customers were better understood, received better guidance and were treated better personally than customers of traditional financial organisations.
Thus, the emerging trend is quite alarming for banking industry and should be considered in their Customer relations strategy. 27% are currently tempted to switch bank accounts while 62% would definitely switch their current account to AltFI. 82% of customers who switched to AltFI will recommend them to their friends. (Personetics, Red Bricks, Jan. 2016).
It is a well-known fact the role of word-of-mouth plays in marketing and consumer behaviour. It's needless to say, that AltFI is on a right track to expand its market share.
Hernaldo Turrillo is a writer and author specialised in innovation, AI, DLT, SMEs, trading, investing and new trends in technology and business. He has been working for ztudium group since 2017. He is the editor of openbusinesscouncil.org, tradersdna.com, hedgethink.com, and writes regularly for intelligenthq.com, socialmediacouncil.eu. Hernaldo was born in Spain and finally settled in London, United Kingdom, after a few years of personal growth. Hernaldo finished his Journalism bachelor degree in the University of Seville, Spain, and began working as reporter in the newspaper, Europa Sur, writing about Politics and Society. He also worked as community manager and marketing advisor in Los Barrios, Spain. Innovation, technology, politics and economy are his main interests, with special focus on new trends and ethical projects. He enjoys finding himself getting lost in words, explaining what he understands from the world and helping others. Besides a journalist, he is also a thinker and proactive in digital transformation strategies. Knowledge and ideas have no limits.